Screen Art And Graphics Info
Our screen printing department offers one color prints to as many as six color prints to meet your needs. Combined with our professional art department, we can customize a logo for your school, sports activities, family event, or business. Before sending artwork please review our artwork guidelines.


Custom Silk Screen Printing – Print Pricing
Standard: 16"w x 20"h screen
Requirements
Print quality / Camera Ready files are required for every order, when available.  We require . AI or .EPS files that do not include bitmap embedded images.  If you are supplying a raster based image file format, it should be saved as .TIFF or .PSD for 1 color or multi-color graphics.  Either of these formats should include a transparent background and not be a flattened image file.  Please remember to convert all text to outlines when submitting a file. Create spot colors in the native program before creating PDF files. All art files submitted may require additional art charges upon review, at a rate of $50 per hour. Our minimum art charge for any order are as follows.
Above All Screen Printing accepts artwork created in most professional graphic applications on either the PC or Macintosh platforms. For multicolor Logos, vector art created in Adobe Illustrator is preferred. CorelDRAW files should be exported as Adobe Illustrator format (ai) with all text converted to curves. We DO NOT accept native CorelDRAW files any longer.
Vector art can be contained within the following formats: .ai, .eps, .pdf
Raster art files must be provided as .psd, or .tiff, with transparent background
(Any raster format must be at minimum 300 dpi, set to size needed for printing, no up sampling)
Typesetting minimum: $20.00
Raster or low res. Art re-draw minimum: $50.00
Color Separation for non vector or incorrectly formatted vector files minimum: $50.00
Custom design or illustration work, per custom quote, minimum: $60.00
Spot color screen prep : $10.00  PER COLOR
Spot color film output: $5.00 PER COLOR
Minimum qty is 24 pieces.
Pricing per Garment, Per Print Location.
Standard maximum imprint area up to 12×17, Jumbo (up to 15×23) / Contact us for quote.
Artwork must be provided print ready.  Vector EPS/AI/PDF or Layered 300dpi PSD at actual print size in inches. If you need artwork we can help.
$10 Setup Fee per color / per print location for 71 and below qtys.  Free Screen setup on 72pcs+.
Mix and Match Garment Types, print size/locations must be the same on all garments within an order.
Ink Colors must stay the same within an order to avoid wash out fee's.  Add $25 per ink color change.
Standard print time is 10 business days from the time of payment.  50% Payment is required up front.
Rush printing is available at times at additional cost.
White and light colored ink on dark garments charged as 2 colors unless only 1 color requested, print will be less opaque with 1 color.  (ex: Yellow ink on a black shirt, the ink would show through to the garment)
Specialty Inks or PMS Matching can increase print cost, contact us for quote.
Shipping is not included.  We use UPS.
Need something you don't see listed here, no problem contact us.  
Find a better price?  Send us the invoice/quote.  We will always try to work with you to earn your business.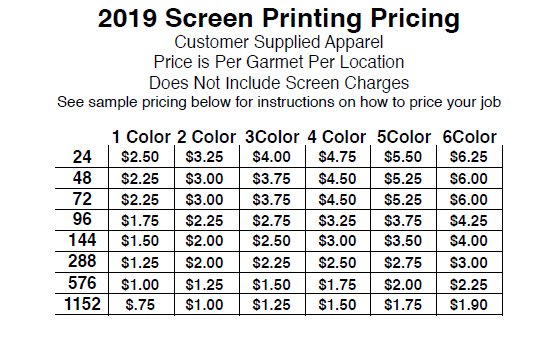 – Printing Techniques –